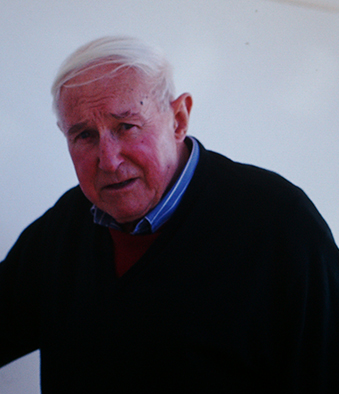 A child of the Depression, Vic O'Connor grew up in hard times in Melbourne's working class northern suburbs and then the rural fringe of Lilydale. The City of Melbourne with its tall buildings, spires, Victorian housing reminiscent of Europe and the hustle and bustle of the Queen Victoria Market were formative images.
O'Connor denies that he ever set out to be a social realist, rather he had a desire to paint and he painted what he saw and felt. But many of his works are metaphors of social concern - a scene from Melbourne can be inspired by a conflagration in Europe. Another may look like Europe but be based on a run of terrace houses in a Fitzroy backstreet. The dispossession during the Greek Civil War of the late 1940s could be Bosnia or Palestine today.
"Probably the first work of much significance I did - except for a few paintings that were directly political - were paintings of Melbourne. They started when I was about 19 or 20 and by that time Melbourne as a city had made an impression on me. There were all kinds of places that I liked which seemed to me to have some special feeling or significance.
Melbourne had a distinct quality and being an adolescent I was a romantic and built all kinds of dreams on things. One house in North or West Melbourne had a crooked chimney - bent halfway upwards - it seemed to me it looked like Europe. The cornices and cast iron ornamentation on the ridges of buildings and roofs. All kinds of things like that are jumbled up to an impression, which I retained.
I had worked from about nine to thirteen in the Victoria Markets with my mother. She had a slipper stall there and we often went home through North Melbourne late at night carrying home cases of slippers. It left a great variety of images of Melbourne and the inner city at nighttime and all this has built up into something significant. When I began to paint, these were the things that came out."
His first painting was a benchmark for making do with scarce materials. Three old tubes of watercolor - green purple and white, found in an old hat box - became a landscape of a creek near Lilydale where he lived at the time. The painting survives in the family collection as does his second painting - also in green purple and white - of sweet peas in a jardiniere. He had also created some linocuts and woodcuts and "felt a very strong urge to paint".
It wasn't long before he found more suitable materials and some of his earliest paintings are not dissimilar from those of his friend Yosl Bergner - dark paintings in medium to heavy oil.
O'Connor has worn a few labels since coming to prominence just prior to the rise of the Angry Penguins: social realist and communist among them, but his work ranges across colorful landscapes inspired by holidays in Mauritius and Vanuatu to the Greek Civil War, illustrations of scenes from the literature he reads obsessively, to harrowed characters from Carlton and Fitzroy of the 1930s and 1940s and desolate landscapes. While he doesn't reject the social realist or communist tag, it does require qualification.
I've never hidden from that. What I've painted in my lifetime is mainly autobiographic - I don't mean it's all happened to me - a lot of it has involved things that happened around me, or things that involve me emotionally or intellectually or politically.
During the course of my life the direction of my work has never altered. It's not a political program. I paint what interests me at the moment, because I want to give expression to my feelings about it."
Enrolled in Law at the University of Melbourne, O'Connor studied at the Public Library in Swanston Street - where Yosl Bergner met Albert Tucker - and met school-teacher Tom Lindsay at a nearby cafe where he used to buy his beans on toast for 1/6. Lindsay saw O'Connor reading and asked if he could talk with him. He asked the young man what he was reading and, told it was Light in August by William Faulkiner, was surprised. But at 18, O'Connor had read most contemporary American writers.
Lindsay lived in the City which was "terribly romantic" for O'Connor who was invited to dinner and met Lindsay's neighbor, artist David Strachan. O'Connor was already familiar with the works of Stanley Spencer, Van Gogh and the German Expressionists.
Strachan was amazed that such a young man was so well-read. (Talking to O'Connor can be a daunting experience, as he repeatedly asks: "Have you read Singer? Have you read Peretz? Have you read Kazantzakis?")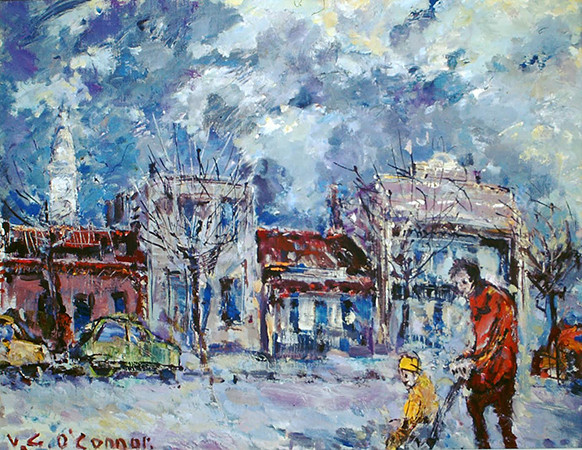 "What gave me an impulse to paint was... where we lived in Mt Evelyn, we had a view across the valley to Warburton and this fascinated me and in the afternoon as the sun went down in summer it would become a wonderful iridescent haze and this fascinated me. And I tried to paint it with two or three old watercolor tubes and they were hard. Fortunately I was conscious of this and that I wasn't getting anywhere.
"By the time I met Strachan I'd done some sketches of Melbourne and some linocuts, one based on Stanley Spencer and some drawings and when he found out he asked me to show them to him. My problem was that I had an urge about the kind of thing I wanted to paint but it wasn't defined in my mind. I couldn't see it.
"He said: 'Well, look. You've got to go to George Bell's art class and you've got to join the Contemporary Arts Society and submit some of these for the annual exhibition'."
O'Connor did and two of his works were hung in the first exhibition. Bell accepted him as a Saturday afternoon student enabling him to continue with law. But studying at the Public Library - then attached to the National Gallery of Victoria - meant that he spent more time gazing at art than reading law. He was much impressed with Daumier's Don Quixote and admits to being "in love" with Courbet's Wave and Winter. His first works reflected the sombre colors of Courbet, also a primarily self-taught and politically radical artist. Both have expressed criticism of social, political and religious affairs in their work.
O'Connor practiced law for about 10 years, but easily dismisses that period of his life: "I didn't like it. I was good at court work - I wasn't good at anything else. It was unfortunate that I used to like to help people with no money, which meant I didn't get paid, which is bad news for a lawyer, anyway."
While he was less than enthusiastic about law, the possibility of a life of painting was emerging, but his tenure with George Bell was short and less than sweet.
"One Saturday afternoon we had a dispute, which some writers have interpreted as my communism against Bell. At that stage I had no politics and didn't know any communists; I had no association with any and no concept of communism. There was a dispute in the Contemporary Arts Society and Bell came to me and said there was a meeting coming up and spoke to me as to how I should vote. And I said: 'Mr Bell I've read the constitution and I think you're wrong. I think I should vote the other way. The Society is formed and exists as a broad society and you want to make it narrower and I can't support that.' So he never came near me again. At the drawing class he'd look at all the other drawings and never come and look at mine. So I left."
In any case, Australia was at war and there was a distinct sense of violence in the streets of Melbourne, giving O'Connor the direction he needed. He painted The Acrobats using surrealist symbols, creating a circus tent background with a stormy sky and rugged earth and figures under the trapeze. It won the 1941 Contemporary Art Show (shared with Donald Friend). Other artists in the exhibition included Russell Drysdale, William Dobell, Albert Tucker, Sid Nolan, William Frater, James Gleeson, Danila Vassilieff and Jim Wigley... and no one had heard of Vic O'Connor. But they soon introduced themselves.
Noel Counihan and Yosl Bergner took him drinking at the Swanston Family Hotel on the corner of Swanston and Little Bourke Streets and they became close friends.
"What they felt about painting was what I was trying to - in some ways - express, myself."
It was the same time that art student and later art historian, Professor Bernard Smith became aware of O'Connor's work, attracted to a "lyrical element in his paintings and the sense of compassion that breathed through all of it."
In what is documented as the first use of the expression "post- Modernist" Margaret Rose records that Bernard Smith wrote in 1945 specifically of the work of O'Connor, Bergner and Counihan: "these artists have matured in a post-Modernist world".
Bernard Smith told Art Monthly that he first saw O'Connor's work at the Contemporary Art Society in 1940, at a time when he was deeply interested in surrealism. "But the violent outbreak of war caused many of us to revise our attitudes to the post-impressionist modernism that was taught by George Bell and my own teacher May Marsden," Smith said.
Specifying the meaning of his description of O'Connor, Bergner and Counihan, Smith recalled his 1945 words: "Remember that the generation of Cezanne is not our generation, nor the one that came after that... They have painted their pictures... Some have made their fortunes and others have died hungry. Their period of propaganda is over. It is for us to find with the future, what they have contributed to art; collect what is important for our purpose, discard the rubbish, and not allow the limitations of their thought to bind us."
"Well if that isn't a post-modernist manifesto written years before post-Modernism became institutionalized as a discourse I don't know what is. And it was the work of O'Connor and his mates that got me first thinking in such post-modernist terms. Now, of course, that post-modernism has been institutionalized I think it's time we dropped it into the rubbish bin of history. But that is another question," Bernard Smith said firmly anchoring Vic O'Connor's place in art history.
O'Connor gives credit to the other two first post-modernists, Yosl Bergner and Noel Counihan, for introducing him to communism. "He [Counihan] was an experienced communist," said Vic O'Connor. "He was so experienced he had been expelled [from the Party]. So was Judah Watten." The internal dispute over a united front against fascism for which they were expelled was beyond the fledgling revolutionary at the time, but it meant that Counihan was unable to propose O'Connor for Party membership. He eventually joined in 1941 and painted pictures for the Anti- Fascist Exhibition in December 1942 and joined Bergner and Counihan in painting May Day banners.
"I didn't know anything about politics, but I liked doing it. It gave me a great lift. Knowing Yosl - in a very short period he taught me directness. Just knowing and talking to him I could see that you didn't have to devise or invent anything. If you thought something you wanted to paint, you painted it. Straight out. And that was the biggest liberation of my life.
"The Acrobats wasn't contrived. It was about the unsettled air in Melbourne. Being self-taught I had to devise something romantic to set a picture in."
His earliest works were anti-war paintings. The first one, The Refugees, (in Bernard Smith's collection) was painted from people he met in Melbourne on the eve of World War II. It depicted religious Jews in black hats with stooped figures. "I painted untutored... out of my thoughts... out of the way I lived," says O'Connor. Like Bergner, O'Connor was able to imagine what was going on in Europe on the other side of the planet, using inner-city Carlton life as a model for Europe.
"A lot of people were sick of cows and gum trees. There were a lot of intelligent people in the art world."
But Social Realism in the 1940s was not allowed an easy birth. "It wasn't acceptable. We had to establish a position." But they created the work and it became acceptable for progressive painters to depict the social condition.
"Look at Kathe Kollwitz, there was never anything that she did that didn't pertain directly to life," O'Connor says of the German leftist and pacifist, referring also to the work of Courbet and Daumier as major influences on his painterly direction.
"We built up a community of buyers, too. Because there were a lot of people who were sick of cows and gum trees. And there were a lot of intelligent people in the art world. People liked pictures that were about something. That's why people still buy my work, because it means something in contemporary terms. In terms of life. They're not interested in a bit of blue and bit of green and pink slash."
At the same time O'Connor ran Dolphin Publishing with the late noted author, Judah Waten. Between Sea and Sky was written in Yiddish by Yosl Bergner's uncle, Hertz Bergner, and although Hertz was not fluent in English and Judah was not fluent in Yiddish they managed to translate the book, which went on to win a Commonwealth gold medal for literature. Dolphin also published Raffaello Carboni's Eureka Stockade the only eye-witness account of the event and Twenty Great Australian Stories. Close to the Melbourne Jewish community, Vic O'Connor's finesse as a raconteur comes into its own when he meanders onto the wheelers and dealers of the 1940s and 1950s, including one Melbourne player who was trading pianos from New Guinea to Hollywood and sending trucks to the fledgling State of Israel. Some of his best stories are about people better not defamed in this article.
Invited to give a lecture at Melbourne University by Patrick McCaughey, O'Connor stunned his hosts by opening with the observation that the greatest draftsman of the modern period was Kathe Kollwitz and not Picasso and that Jacob Epstein was the best sculptor and not Henry Moore.
"Having shocked them I began my talk from there. But I believe that. Kathe Kollwitz achieved everything Picasso achieved and much more."
In shrugging off the social realist label, O'Connor is very thoughtful about the expression's origins and the origins of expressionism. Acknowledging the connection between Courbet and social realism, O'Connor believes that pigeon-holing artists is counter- productive.
"In a way I've never been a social realist. I've tried to paint a picture of my life. I paint Isaac Singer because a lot of his stories contain something which is still relevant to modern society and I like to translate it into pictorial form. Australia has had a strong vein of realism with Roberts and McCubbin and Withers and people like that. I like to paint society, but I'm very laid back about it."
The Deaf Fiddler is based on Singer's story of a miller's family trying to marry their beautiful daughter to a succession of anaemic Talmudic scholars. She repels them all. One day she suddenly changes, inhabited by the scoundrel spirit of a deaf fiddler. She has unseemly affairs with low villagers and is outcast. "It's a fable about vanity, probably justified vanity," says O'Connor, complimenting Singer as a wonderful story-teller, a trait they share.
He is cautious in his judgement of his contemporaries. He admits that Albert Tucker's early work, especially Spring in Fitzroy was significant as was Unreal City. The other social realists were Yosl Bergner and Noel Counihan and some of Arthur Boyd's work.
In the early 1990s, he returned to Fitzroy, renting a cheap flat in Greeves Street - the setting for his recent works on the social condition. He would drive from his bayside home to town three days a week, painting with a model for a day and a half and literally sitting in the gutter to draw the faces of Fitzroy on the other days. It was a return to where he taught himself to paint half a century earlier, wandering the streets and drawing.
It was the first time in a lengthy, if low-profile, career that O'Connor was able to afford a model. "My wife worked. Every artist's wife worked. Counihan's wife worked. They all did." While O'Connor is less well-known than some of his contemporaries he has a keen band of supporters and is well-represented in public and private collections. The Australian National Gallery has more than 70 works, but the NGV has just two small drawings and one watercolor on paper. Not a single serious oil and nothing on display.
It is multiply ironic given O'Connor's international significance; his generosity to the NGV for helping to inspire his career; as a Victorian who has lived most of his life in Victoria; that he is probably the first artist to paint the Melbourne skyline; not to mention his own first name. Patrick McCaughey once described him as "the most neglected under-rated painter in Australia" a matter McCaughey failed to correct in his many long years as NGV director.
"I've always had critical approval. But I never had a sponsor. I never sought one. I never looked at painting as getting on. I had enough trouble painting, let alone organizing a sale. You make a career in art by kissing arses.
"If you didn't have somebody like the leading galleries standing behind you, you didn't go anywhere. But I'm not in it for commerce. I'm in it for working and seeing a good picture emerge from what I'm doing."
Art dealer, Bridget McDonnell says Vic O'Connor deliberately keeps his prices down so that his fans can afford to buy his work. McDonnell says she never has trouble selling his work at exhibition. One painting recently resold through another gallery for $25,000.
That said, Vic lives modestly in a comfortable spacious cottage above his studio overlooking Dromana and Port Philip Bay. Clearly a frugal child of the Depression, the conflict between working as an artist and success as a commercially tradeable commodity could not be clearer. The trappings of success are entirely absent from the world of the quietly spoken, thoughtful painter. It might even seem inappropriate for a documentor of the social condition to live any other way, despite the importance and consequent commercial value of his work.
His paintings of the Greek Civil War are based on Kazantzakis, but influenced by a different conflagration. An endless line of harrowed displaced refugees trudge along a road that could be anywhere in Europe in any of the violent times of the past 500 years.
"I did them - not just because of the Kazantzakis novel - but I painted them since the war in Yugoslavia and it struck me that the position in Yugoslavia was exactly the same as the position in Greece, where you get neighbors - people that have lived next door for three generations - suddenly go mad and want to kill each other.
"Unfortunately, it's a subject which never vanishes. There are always wars."
The scenes of the 1940s are no different to the 1990s and little different from what must have been the case a hundred years earlier, but no one seems to have captured the earlier images of the dispossessed.
More recent work includes The Mourners (1991) based on the Sabra and Shattila camp massacre in Lebanon where the Israeli Army allowed Christian Lebanese to murder Palestinian refugees. Cattle is also based on Israel, depicting the army moving into a village, clearing the women and children in wagons and then burning their homes.
Study for Coffee, Fitzroy (1992) is based on the Greek and Italian clubs and restaurants where O'Connor would go to draw ordinary working Australians. The Room is representative of places he stayed with his wife, Vera, when they lived in relative poverty in Sydney in the 1960s.
Visiting Bridget McDonnell's gallery in Carlton, O'Connor saw some women near a restaurant and initially thought it was a women's club on a day out. "When I got nearer I realized they were all applying for a job as a kitchen hand. So you've got a ready-made picture. Another oil is of women from a factory in Greeves Street and after work they'd all traipse up the middle of the street and there were a couple of Asian girls and so on - so these are things I know. I don't have a great philosophical problem to give them shape.
"I never seek out to paint a picture of a particular thing. I either see something in the street or read something in a book and I get an instant image. I don't have to work it out. I can see a group or things that pertain to what I've read; or I've seen something in the street that has made itself a picture.
"When I start to paint I have a complete image in my mind. It's not a process of analysis. If it doesn't work out, I don't finish it." He has quite a number of unfinished works. "It's the essence of what the picture represents, that creates the nub of the image I have and that's what I paint."
Asked about a post-surrealist return to a painterly tradition from abstract art and perhaps even a return to painting the social condition, Vic O'Connor agrees that the tide may have turned, but says that what happens in the art world doesn't affect the rest of the world very much.
"What I do think is that among the people that go to art galleries, more and more are interested in pictures in which things happen. I can only speak about my own environment - the galleries I know.
"I don't know if there is a move against abstract art - I can take it or leave it. There are painters whose work I admire as decorative painters and I like the more abstract things of Matisse and some of the Picassos, but I never get the same feeling as I do with Kollwitz. There's much more in Kollwitz for me. That's a personal thing.
"I never considered myself a social realist. It's a technical term which I don't conform to. I try to paint life with social [meaning]... I paint against war and poverty. I've painted a lot of down and outs. The dross of society who have got nowhere to live... people in the street. Because I think it's important to tell people that there are people who live in cardboard boxes and haven't got an overcoat. It comes as a great shock to a lot of people. But the main thing is to create a good picture."
O'Connor says that if he painted a picture with a message and it wasn't a good picture he wouldn't sell it.
"I destroy them. Bridget's going crook at me because I've been destroying a lot of drawings. I've got a lot of drawings which are preparatory. I did a lot of drawings of Dickens' Mr Micawber. Nearly all of them are no good. It's no good leaving them around. Some dealer is going to get hold of them the day I die and sell them to unsuspecting people as being good drawings."
In 1995 O'Connor organized an exhibition at the Victorian Artists Society of 40 works on paper and sold more than half, at prices ranging between $1,000 and $1,750. Pleased with himself he commented that - not having to pay commission - it was "a good result".
"I created a bit of a hubbub of excitement. People came in saying they'd been told to come along to Vic's because there was a very exciting exhibition on. I got feedback everyday I was there. One thing I have, is a bit of an army of supporters. People who come and see my work and own one or two or five works. And they all turned up at my exhibition. It was great. The bloke who did my heart operation who is of Greek parentage bought a couple of the pictures in the series I did on Kazantzakis.
"They're all friends. It's great. It's a great way to paint and live, because I know that every picture that everyone of them has is genuine. They've never had one flogged to them and I've never given pictures to dealers to flog. Every picture I've ever put out is from the heart. It gets harder to do - that's the trouble."
He has a plan to do large scale self-portraits but says the drawings look like good drawings of someone else.
"I'm trying to paint what's inside me, but I'm not quite sure what's inside me. I struggle to analyze how I'm made up. When I come to think of it, I find it now a great mystery, because I've done so many rotten things in my life, they're the only things I can remember. I can't remember any of the good things I've done. It's strange when you look back in your life, what floods out. I've got to settle all these problems. But I couldn't be reconciled to not painting or not drawing. I couldn't imagine being in a condition where that situation existed."