David Langsam interviewed Keith Richards and discussed the politics, philosophy and psychology of the Rolling Stones.
Keith Richards interviewed at his Broadway, New York office. December 1988.

In this audio excerpt Keith defines himself.
Keith Richards confidantly predicts the Rolling Stones will back on the road with a new album and a world tour in 1989 - but if it takes time to organise, the X-Pensive Winos - his Talk Is Cheap album band - will tour Australia and Japan before the Stones work begins. However his trenchant criticism of Mick Jagger as in this interview "He has no friends, he has no character" and Bill Wyman "they take it for granted that people love the shit that comes out of their arseholes" makes it difficult to imagine the five working together again...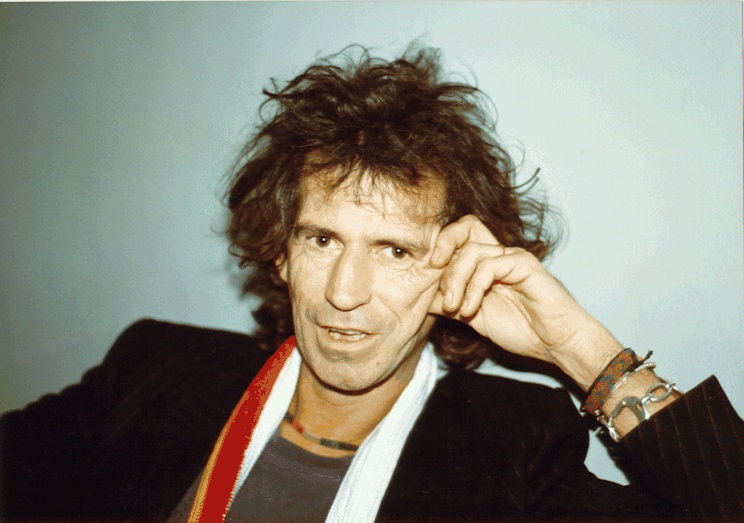 Keith, a heroin-clean family of four man is very hung up over Mick. He thanks him immensely for saving him through his heroin habit days and admits a great love for his lifelong friend. But Keith is adamant that he has his act together and is at one with himself - while Mick has no friends (other than Keith) only yes men and Mick needs help to come to terms with his future. Mick may well have different views on these matters.
In fact the phrase "He protesteth too much" comes to mind as Keith carves into Mick's lack of character and then need to find himself. Maybe Mick doesn't agree with Keith. Maybe they have just gone their separate ways after 40 years together and 25 years on the road together... it's sad but it does happen. Whether the Stones regroup, record and tour this year will depend on the five principals and if, as Keith claims below, he really wants to keep his band together, he'd better soften some of the body blows he's landing.
David Langsam flew to New York from his homebase in London, to attend the last gig of Keith Richards' US tour at Meadowlands New Jersey, went to the end of tour party and met Keith in his office on Broadway, above one of the few liquor stores that sell Rebel Yell bourbon north of the Mason Dixon line.
DAVID LANGSAM: You've just finished your first solo tour - your first time on the road without Charlie, Bill, Ron and of course, Mick - well, what do you think?
KEITH RICHARDS: It was absolutely great. At the moment I'm just realising that it's finished - the body keeps going, "Where's the gig?" Nine o'clock and my body wants to go onstage and there's no stage to go to anymore. You get a post tour depression. It always sets in.
The tour was fantastic, the crowds amazing. For me the whole thing was an experiment, which is why I decided, except for Meadowlands, to do small theatres and stuff where I didn't have to think about the sound and I could figure out whether I could carry this thing off or not as a front man... and that worked. I'm very happy.
DL: I liked you as a front man, doing a Mick Jagger does Keith -Richards, bouncing around the front and centre stage... and then you'd break it with a self-deprecating grin as if to say "this is just crap, yeah I can strut my stuff but I don't need to." How do you feel about being able to front a band?
KR: It was mainly a matter of whether I could personally handle it or whether I would just dry up having to handle a whole show by myself. I was unnaturally calm at the first gig, in Atlanta. Usually I get excited, nerves don't really come into it, but I get an "open the cage, let me out, let me at them" feeling, but for the first gig I must have numbed myself in some way, because I had this unnatural clarity of what was going on and wasn't actually feeling anything at all until I got into the show. It was after the first show that I realised, "Yeah I can handle this."
The first one's the toughest always. After that it's a matter of mechanics, whether the voice holds out. Then if you can get through one show you can get through hundreds. The next gig, the next day, was Memphis and that's when I knew it was okay, because I had that same feeling again, "Okay open the cage... let me at them," so it was alright.
DL: They were serious music places to open a tour, particularly Memphis. What was it like headlining your own act in Memphis?
KR: In a ballroom, too. There were some great gigs. In Detroit we played in an old Fox theatre that had been totally redecorated. It's almost a replica of the one in St Louis I did the Chuck Berry movie in... incredibly ornate Twenties joint. I had heard that theatre was a flea pit a couple of years ago and they'd only just opened it again after doing an incredible job. It's a serious old gig, a beautiful theatre and you get great sounds in those places. And there's no distance between you and the crowd... they've got their fingers on the stage. It's very intimate and you can whip up a lot of excitement.
DL: What was the opening communal crouch about?
KR: I didn't want it to start with "Ladies and Gentlemen Keith Richards and the X-Pensive Winos" I thought we'd just go on, sit down and finish our cigarettes and talk over what we're doing and bring the lights up slowly and when we're ready to go, go.
Everybody wonders what the hell's going on and actually it calms the band down and stops the nerves getting to anybody. We just finish our cigarettes, finish our drinks and just wish each other good luck. And when I know everybody's ready I just start the song. It centres the band and leaves a little feeling of intimacy in a way to the audience - especially in the smaller theatres. It lets the audience think they're being let into some private rehearsal or scene. It draws them in, it's a little bit of theatre... and also (laughing) it's very cheap.
DL: The obvious question is whether you'll stay with this or go back to the Stones, but in fact you now have the option to either perform solo, or work with the Stones?
KR: The ideal thing for me would be to do both. The Stones don't work enough for my liking. To get the best work out of myself I have to work more often than the Stones can possibly work. The machinery is so big in the Stones organization you tour maybe once every two years. The Stones now haven't been on the road for six years, it will be seven if they get on the road next year... which is a long time. And for a musician that's not a good thing. A musician needs fairly regular constant work, practice, to keep your chops together so that it flows out of you naturally.
The Stones, when we record or go on tour, I have to knock the rust off the machinery for a couple of months first, and it's a hard grind to get them into top gear. The ideal thing would be to work both of these bands: It would help me be much more well-oiled for when I work with the Stones and also... I like this band a lot. These guys are amazing. One good band in a life time is a miracle and to find two... some-body's really smiling on you when you do that, when you get two great bands together.
Around July or August we had a meeting in London and they said, "Yeah let's do it. We want to do it." So I think that it's a 99 percent surety that we'll definitely be on the road this year and if things work out, maybe a new record before then, if we can get one together in time. So barring any fatal accidents of any kind or major explosions, I would imagine that somehow we'll see the Stones on the road in '89.
DL: The Meadowlands gig at the end of the tour was quite a departure from a Stones gig in two ways. Firstly, I expected a wider age range, but it was overwhelmingly late teens, college kids, high school students - which is great for you because it means you're breaking into a new audience - and secondly, while it was boppy, the music was less danceable than a Stones concert - more serious listening music. In fact while watching you I was thinking this feels more like a Bo Diddley gig or a BB King show than a stadium rock band.
KR: That's true. It's a very musical band to start with and most of the emphasis was the music. There's very understated lighting, absolutely no visual gimmicks at all. It was designed to be concentrated on as music, but with enough power and enough looseness to not become stuffy as recital. But Meadowlands was the only big place that we played, so in a way, although it was the last show it felt like the first show because we were using all new equipment, much bigger equipment, so we had to change a lot of things. The show was basically designed for the more intimate smaller theatres... three thousand four thousand people and that was 15 thousand.
The other big problem I always thought I would have is trying to remember lyrics all the way through. And which at the beginning for the first couple of shows I did have. As you're coming up to the microphone after, say, a guitar solo and you think, "I have no idea what the words are" and you've got ten seconds or a tenth of a second and there it is... it just comes out.
In a way it's like slow motion. That's the ideal feeling on stage. That everything has slowed down for you. It's like being in a car crash... the car's rolling over for the third time and it seems it's been going on for half an hour and you know it's only a split second. It's that clarity you get.
DL: You have quite a reputation for car crashes, haven't you?
KR: I've had a few. Everything slows down and you're wondering whether you'll get the hell out. I've been in car crashes where you actually do get out. I've watched it from above, saying, "I'm a goner. This is it. No way am I going to survive this."
And suddenly you're watching it all from above. And by some quirk of fate you're actually still alive when the whole thing is all over and suddenly... bvoom... you're back in the driving seat again. It is a very strange feeling and onstage it can be like that sometimes. You just disappear and suddenly when it's time for you to be back inside yourself... bvoom... you're there and it's a strange feeling. Maybe it's something to do with the afterlife, I don't know.
What was really great about this band on the road was that it was the same as playing with the Stones... I didn't even have to look around. When I knew we had screwed up the arrangement somehow, but we'd just play it through to another chorus and we'd bounce back in again.
Which is what the Stones are very good at. Especially when Mick is halfway down a football stadium, half a mile away nearly and you can hardly hear what's going on, because it's so far away and you get this echo zooming around. With a good band you kind of know what the other guys are thinking even though you can't see them. You say, "They know I've screwed up" but you don't have to look around to try to pull anything together, you can feel them all in the back of your mind, "Okay we're with you". Which is what the Stones prided themselves with working with Mick.
No matter where he was, if he was halfway down a stadium or on one of those ramps we used to use... he could be a tiny little figure way down there, but if he screwed up a verse, or got dragged off the stage by some chick, he didn't have to worry that the band would be there. And that's the sign of a really great band, that unconscious picking up without any effort at all, without any consternation, that's the amazing thing.
DL: You're really missing those guys aren't you?
KR: Of course I miss them. I've known Mick for nearly 40 years... Ronnie's a newcomer and he's been with us a mere 15 years or is it 13 years? And the other guys have been together 25 years. You're bound to miss people. I miss them all, they're all great friends of mine.
As much as I miss them, I can, which I never thought I could, work with other people as well. Before I started working on my own over the last couple of years, it just seemed so monumental to me, the task of trying to put together something else. When the Stones decided not to work, I decided, "Well I got to work". I can't just sit around on my arse and wait for the Stones to decide when I'm going to work again. But the task seemed too monumental to contemplate... to find other guys to play with and put it all together. Probably because I'd never had to do it since putting the Stones together in 1962.
DL: The album, Talk is Cheap, is a great album, but it's bombed in the UK and in Australia, where you've done little or no press and there's no tour planned, despite your rather strident criticism of Mick (Jagger) for not following up Dirty Work. There are a lot of disappointed Keith Richards fans in Europe and Australia who would have loved to have seen you tour with X-Pensive Winos. It might have made the album chart.
KR: I'm not too concerned where it's done well and where it hasn't. It's already far exceeded what I expected it to do. I expected it to do respectably, but I can't be in Australia and in the UK and in America at the same time. If I had the time, I'd love to take this band everywhere and in due course, hopefully I can.
There's no possible way I could have done a world tour at this time given the fact that the Stones are going to be working next year. If I had the time I would have loved to have done that and the band were ready to go. And as far as the record company is concerned, we've only had one single (Take It So Hard) out so far. There's plenty of other albums that don't take off until the second or third single.
DL: Like some Stones albums, Talk Is Cheap doesn't sound so good on the first listening, but the more you listen to the tracks the more you like them. There's a deceptive beauty to them.
KR: Exile On Main Street was like that. That was universally panned when it came out. And it was a double album. People get overloaded with double albums. There's so much to listen to, you get confused. This album's like that in a way. There's far more depth to it than you can possibly catch on a first listening and it does take a few listens, which is why I mean there's plenty of room for this album to do things yet. As long as we can keep the interest alive on it, I think you'll find this album will still be a grower. They dumped a gold record on me after the Meadowlands gig, so we've done that.
In Germany, France and Italy it's done very very well. And Scandinavia, Japan, as I say, it's been a blockbuster. The rest of the world has been much stronger with it than just America. That's another thing that makes me think it would be very worthwhile to get these boys on the road. There's a lot more interest out there than I thought there would be.
DL: I've always been interested in the social and political philosophy of the Stones. You've been adopted by everyone from Hippies to the Hells Angels. There's been much controversy about your lyrics: Street-fighting Man is an anthem, Salt of the Earth, Brown Sugar, Heaven, You Can't Always Get What You Want, Luxury - so many of them analyse social conditions. But noticably your songs, Happy, T & A, You Got the Silver, All About You, Coming Down Again and just about everything on Talk Is Cheap are love songs, or blues songs. They're emotional, they're self-descriptive with little or no social comment.
KR: Mick's more of a preacher than I am, in his method of delivery etcetera. With Mick I can sit down and write on a more political level, a more social level, because he can deliver it that way. To me, when I get down to it, there's really not very much difference. A song about you and I is really about the same thing at a more intimate level. It's just a matter of can we get along? And that's after all what society is. And that's all politics are. Between us all, how do we get along? And I usually focus it down to a more personal level, because I can deliver it better that way. Mick can sing it at a far more general level.
In a way you only reflect what is going on out there. Also I find there's only so much you can say on a political or a social level. If you keep on doing it it starts to get hollow. And it's the same with Bob Dylan. Bob probably wrote some of the best social commentaries in the 60s that anybody's ever written. You can't keep on... you can only say that sort of thing once or twice with any real conviction or otherwise you're just repeating yourself. And I don't think rock'n'roll music's strong point is in being so pointed.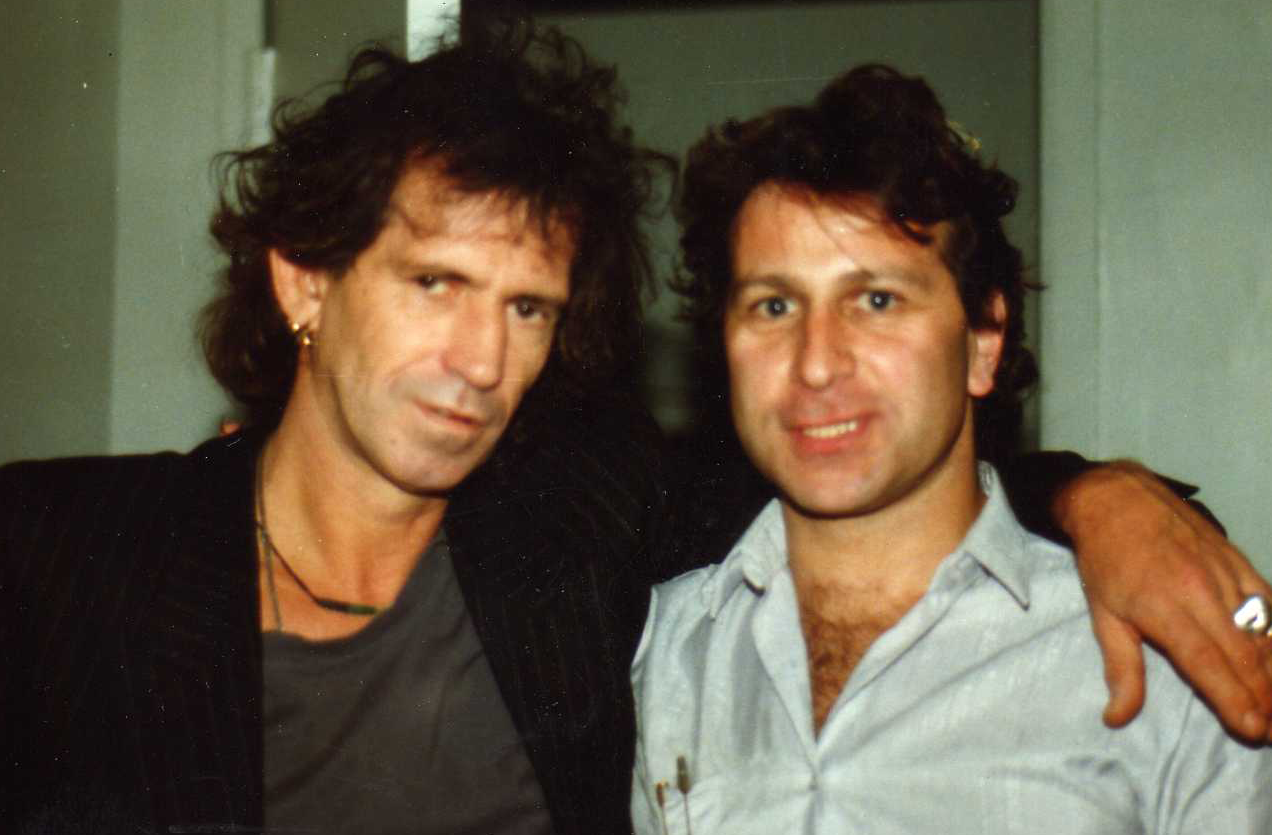 One thing that did get over the Iron Curtain was music. You can buy Rolling Stones records in Moscow on the black market at 65 bucks a piece. And many other artists too. I think a generation of all that has been - I won't say a main factor - but a strong factor in the reason that Gorbachev has said, "We can't keep the gates locked anymore. We've got to start to converse with people otherwise we're screwed." And so maybe music has an effect. But not just from the lyrics, because people don't all speak English and they're buying it on a far more human level. Music's way of doing things is far more subtle than just by preaching about things that are going down. The power of music, the essence of it is not so much what is said but the fact that it is there.
DL: Mick sings "Every cop is a criminal, all the sinners saints". You sing "I'm gonna walk before they make me run". The first is social comment, political if you like. The second is self descriptive. Do you see yourself as an anarchist, as an outsider or like Bowie's Thomas Newton character in The Man Who Fell To Earth - a creature from far away bemused by the games people play?
KR: That's a good one. I see myself... I don't know. I see myself as in a way put in a position. Like you said at the very beginning when you were testing the tape. Give me your name and what you do for a living... I'm a guitar player.
I'm as bemused by what goes on in the world as anybody else and I really see myself as the extension of a very long tradition of troub-adors and balladeers and musicians throughout the ages.
I'm not trying to influence anybody in any particular way. I'm far more comfortable with describing how things affect me and seeing if that relates to people than deliberately trying to express what I think is going down in the world.
When you're a performer, especially a famous performer, I suppose the best you can do... as long as you're in touch with people and you don't isolate people... is reflect what's going on around you. It really does depend on what's going on in the world as to what you write about.
If everything went fascist, which is quite likely, you might feel moved to do something, but how to do it and what would have the best effect is another thing. Music is already a reaction... so you're only saying what you know a lot of other people are feeling anyway.In the Sixties, although there was an enormous amount of reaction, I don't think we really changed anything in the world. But we were there as a sort of anchor point for people who felt that way.
DL: As far as I know the Stones have never endorsed any political ideal or ideology, with the exception of Mick turning up at the Grosvenor Square (anti-Vietnam War) demonstration in 1968. Is that the sum total of the public political statement... one member of the band at one demonstration, once?
KR: Yeah, I think probably it is.
DL: Did you ever go to any demonstrations?
KR: No. I've been on the fringes of them. Also I've said okay I support that or I'll go along with that or I'll sign this petition or do this. There are a lot of wrongs that need righting, but as I say, honestly, I'm a musician and I'm playing a gig. There are many times I wish I'd had my voice felt on certain things, but I happen to be on the other side of the world while it's going on. I think probably the only reason Mick turned up at the Grosvenor Square thing was that he just happened to be there at the same time. Most of the stuff that went down in the Sixties, we weren't there. We were playing Peoria or somewhere. We'd only hear about it later.
To me politics never changes really. When people do get up off their arses and actually do something about it, I find that very interesting, but I'm almost detached from it.
To me the most important thing, if I was to make a demonstration is "Just give me enough air to breathe". This is the one thing that worries me, whether my kids are going to have any air left to breathe or what.
I find these surges of emotion that people have en masse, interesting. After 20 odd years on stage and watching people en masse and the way everyday normal people come to a concert. What the hell would you want to be in the middle of 100,000 people for? And it's raining... and yet they do it constantly. When people are all together the mass thing takes over. Hitler knew this real well. They become one. It's a sub-conscious desire among people to become part of one big thing so they can forget their own individuality. People are so hung up on their individuality, that sometimes they need an excuse to, for a couple of hours, just become part of this huge swaying thing and be the same as everybody else. It's a mass psychoses.
I can understand it because I'm up on stage and basically doing the same thing... that's why I get post tour depressions. Because while you're doing all that, you don't have to worry about anything else at all. Everything is focussed on that two hours on stage, you've got no time and you can forget all of your worries, all of your personal problems and be a part of this whole huge one thing, like a coral that is all tiny pieces that all seem to fit in. And people need that, otherwise it wouldn't go down so often.
DL: So the only political questions that really bother you are about the environment?
KR: Basically, yeah. What's the point of fighting about little portions of the earth... little ants in fratricide and homicide and national boundaries when we're probably polluting ourselves out of the whole game anyway. That's a far greater danger to me. The ozone layer has a hole in it. The weather's changing.
All kinds of shit's going down. We don't even know what we're doing to it. It's a global question. It's no longer a matter of national boundaries. Nobody's gonna fight nobody, if there's no air to breathe... all other problems pale into insignificance.
Maybe the fact that we now have global communications just might wise people up to it quick enough to do something about it, but we've created some damage on this globe and we're liable to asphyxiate ourselves. So all the other things are bemusing or amusing. It's very sad for people that get killed, yeah, but we might all die. This is a global problem now. It's got nothing to do with lines on a map. This part is mine and this bit is yours. It's all ours. I just want to make sure there's enough air for my kids to breathe when I'm dead and gone and for my grandchildren to breathe. That would be a nice legacy to leave. But we've already broken through the ozone layer. We don't even know if we can repair that. How much punishment do you think this planet can take?
We could be put down as the generation that destroyed the world. There's no two ways about the world. We're on the verge of destroying this world. As my dad says, a fox never shits in its own hole.
DL: In England Mrs Thatcher has said she would like to eradicate all the permissiveness and social culture born of the 1960s revolution - a time she despises as dreadful - she's no Jackie Kennedy if you like - an era of which you were not only a key player, but remain a powerful symbol. At the same time your rags to riches success is a perfect example of the ambition and determination that she espouses. What do you think of England in the Eighties under Thatcher... or do you prefer to lie back and think of fucking?
KR: I always prefer that to thinking of Maggie Thatcher... England's weird in that it likes an iron maiden. From Bodecia, Elizabeth I, Victoria... when monarchy meant something... under a woman they blossom. They love mummy. A cabinet minister can walk out of a meeting with the Prime Minister and say "Well, what could I do? She's a woman. I had to give in." It's an excuse.
The English love the mistress with a whip in her hand, they're quirky that way, especially when you get up to that strata of English society. I have this weird ambivalent feeling about England. In one way, "What a tyrant!" on the other side of it, anything's preferable to the previous 20 years of wishy-washy not knowing what's going on. They just wanted someone to come along with a big stick and bash them into shape. Even guys that I know that were fairly left-wing are comfortable under Maggie at the moment. So I look at it from the outside and wonder what's going on there too. And you can't turn the clock back so there's nothing she can do about the Sixties.
DL: Does it worry you that she actually despises that period. A period which means an awful lot to me and I suppose it means alot to you too. Why would she want to eradicate it all?
KR: I don't know. I imagine Maggie wasn't that different then to what she is now. She saw it as a total assault on everything that she found cosy and comfortable. There's a lot of Mary Whitehouse in Maggie. She's very prim and proper.
On the other hand, on the surface, she seems to have whipped the country into a comfortable shape. What do most people care about? Most of England feels that one way or another there is more bread rolling in, there's more employment. Most people worry about the money in their pockets, whether they can feed themselves and so the major task is to make sure that things are at least moving. Whereas nothing seemed to be moving in the Seventies in England. It was one wet flannel after another. Harold Wilson, Jim Callaghan... everything was just dissolving... more and more people unemployed. Nobody could deal with anything. So I think there's a very ambivalent attitude towards Maggie otherwise she wouldn't have got back in in '87.
DL: There is a lot of animosity towards Mrs Thatcher, particularly from people who support the rights of say, homeless people and the bottom strata of society and the reason I raise the question is that Blues and Jazz and Rock'n'roll really come from that strata. People critical of Mrs Thatcher would say, "Yes, things are moving, but the people who are suffering are suffering worse than they ever have before."
KR: In that respect you have the same situation here. I spend most of my time in this town (New York). The guys are on the streets here, openly begging. You never used to see that. Maybe one or two, but now it's a way of life on the street here.
On the street I live on there's virtually a toll booth comprised of dixie cups at either end of the street. You got to get to know the guys in order to get out of there... I usually go out with a dixie cup of my own and I say "Funny, I was going to ask you the same thing".
DL: How do you walk around Manhattan? Do people recognise you every-where you go?
KR: If I take the dog for a walk and it starts to rain and a cop car drives by, the police call, "Hey Keith, you want a lift home, man? You'll get wet". People just take me as I am. If I'm walking and I turn a corner and some school's just coming out then it can be a hassle because they're coming en masse and someone says "It's him". I either run for it or ease through, giving thanks and an autograph. But there's a tremendous amount of goodwill for me in this town. I've had muggers come up to me and suddenly stop. "Er, can I have your autograph? We don't want to fuck with you man." Because I also have this fearsome image, which worries them. They never know if I'm going to pull an Uzi out on them.
DL: Just a technical question, Keith, do you have an Uzi?
KR: No, I don't like semi-automatics.
DL: What do you carry with you for a gentle walk down Broadway?
KR: I carry a big stick. My preferred weapon is a Smith and Wesson .38.
DL: Turning to the musical changes over the last 20 years... from R&B, from your 12 x 5 album to Rap and Hip Hop and Scratch... you're not very impressed with anything in the charts, but you constantly go out to shows. Do you still like going to clubs? And what's good to see?
KR: I liked InXS. The guys can play. They're a band, They're together. I listen to blues, Robert Johnson, Mozart. To me music is music. The only worrying thing to me is the way the music business keeps pidgeon-holing things more and more. The outlets diminish as you get put into a slot to make it easier for the music business. It makes it harder for music but easier for the music business.
If you look at the music trade magazines, Billboard and Cashbox, you have the feeling that they'd like to have a chart for every record, so every record could be number one and it could take up all the pages, instead of those blurred photographs of guys having a drink and a gold record.
Asked about specific bands Keith says he's heard Midnight Oil on radio "a couple of times" but admits being out of touch because "I've been so involved in making my own record."
KR: Tracy Chapman I find very intriguing.
I find it enormously interesting that people picked up on her because it's very human music and it's very simple and very telling.
DL: She also had good timing. Her record came out just before the Nelson Mandela concert and she happened to be a talented black woman who only needed two microphones while all the big bands were having trouble backstage.
So she did about ten songs instead of the three she was scheduled for.
Was good timing important for the Stones?
KR: Timing is all important. And you don't really have any say in it.
We just happened to be around when the Beatles broke. We had no idea they were up there in Liverpool, they had no idea we were in London. They broke just a mere matter of months before we did and of course they were instrumental in us breaking.
In England in the early Sixties, there was a desire to break loose from a redomination of Tin Pan Alley over rock'n'roll. Elvis was in the army, Jerry Lee [Lewis] was disgraced, Eddie Cochran and Buddy Holly had croaked and it seemed as if the iron fist of Tin Pan Alley was once again on rock'n'roll.
To the Beatles and guys like ourselves, there was no way that we were going to let go of this first ray of sunshine that had come into our lives since we were kids... because we all grew up on rations.
In England, World War II didn't stop in 1945, it ended... if you were born in the war, it didn't finish until 1954 when sugar came off rationing. You didn't get any sweets. You'd get a bottle of orange juice a month. I still remember that. The war went on for another nine years in England. Sugar was the last thing to come off rationing. For a kid it was ice cream and sweets and candies. One little bag a week.
And then a mere year and a half later, two years later, the next thing was rock'n'roll. Suddenly the world turned to technicolor for us.
DL: What do you think of the Travelling Wilburys?
KR: There's some nice stuff there. I have a resistance to loads of superstars together on one thing. I've seen a couple of videos and they all look like they're having a good time and it's doing very well.
We were in Boston and Patti [Hansen, Keith's wife] came to visit me so I didn't go out that night, but everybody else went out to see Roy Orbison and two days later he was dead.
It's always such a shock, especially when you've seen the guy two days earlier.
They said they were going to see Roy, so I sent him a little note and he sent a little note back. I must have one of the last bits of paper he scribbled on.
It said, "Sorry, I didn't catch up. I'm playing Cleveland." He went on to Cleveland and that was our next gig and we were a day behind him. He left Cleveland and we had a couple of days off and that's when he died. So I was hoping to catch up with him somewhere.
I wrote, "Hope to see you further down the road, Roy."
DL: Was he one of your influences?
KR: I wouldn't say a direct influence. But for a musician, anybody you listen to is an influence. Roy Orbison records you couldn't avoid. They were so powerful, so plaintiff.
Roy's life was one long tragedy, which is why he wore black all the time. His kids got burned up in his house, Claudette died... and he was such a gentleman and such a sweet guy.
How could anybody bear up under all of this? Who could deserve so much bad luck? I worked with him a lot in the 60s. We did a lot of tours with Roy.
In fact one of them was in Australia, where he was as big as the Stones were and we would alternate the top of the bill every night no matter where we were, because as many people came to see him as came to see us and you see this little pudgy guy in the dressing room playing guitar checking out everybody.
"You okay man? You alright?" He was always very concerned about everybody.
"You got rid of that cold yet?" You'd look at him in the dressing room... a real nondescript looking person and then he'd come out on stage and you'd see him grow ten feet.
He had this incredible stature about him. Roy was a gentleman and one of the sweetest guys you could meet. Everybody says that after somebody dies, but it really was the case with him. It was a real shock to be that close to him just a few days before he died. It really hit me harder that way.
DL: You're a very spiritual person. You've mentioned the ether several times... whereas the image of Keith Richards is much more cynical and hard-bitten.
But you really do have a healthy sense of the mysticism don't you?
KR: Only because it's forced itself upon me. I never went looking for it.
The most forceful is when you reach that point where you have no control over it and say "I'm dead" and then you realise you're out of it. That's my only indication of any spiritual or other force at all.
But of course who wants to dwell on it? It's easy to say "god". It's a great name. It's very short and everybody can spell it.
DL: You wear a large silver skull ring on your hand and you say it is not a reflection of being tough.
KR: I've been all over the world for many years and I know some great people from just about every culture in the world from every persuasion and from every point of view and I had it made for me so I would always have something to look at to remind me that even when I'm saying, "This jerk's an arsehole this guy's really..." that under it all, we're all the same.
It's just a reminder. Whenever I think I'm getting big-headed I just look at it.
"I know what you look like under there."
DL: Much of the differences between you and Mick are about style... how the Stones will continue if at all.
Watching you perform it's clear that the musical content is far more important than the presentation. Is that what the dispute with Mick is all about?
KR: It's pretty much the central point. If you were asking Mick this question he'd probably say, "Keith's just a rocker and would just lead the Rolling Stones into rock'n'roll nostalgia"... a defunct act that can only live on its reputation.
My point is that the Rolling Stones are on the cutting edge of finding out if rock'n'roll can grow up.
Obviously Mick still wants to work otherwise he wouldn't have just come back from the longest tour of Australia that probably any large act has ever done. Most people go there and do five shows. He was there for a month.
To me the intriguing thing is if we can keep this band together... seeing how far it can go... to toss off that opportunity of being here and now, still with people wanting to know about the Stones. It's almost like Columbus. Let's just set sail and find out.
And to ignore that opportunity would be unforgivable.
And I guess the dissention between Mick and myself over the last few years is that I've noticed him becoming more and more hung up about what David Bowie's doing or Michael Jackson or Prince is doing... looking over his shoulder. And seeing some competition coming up. But it's inconceivable that anybody could worry about that and to try to out-spectacle them... because the Rolling Stones were never about spectacle.
All we did was enlarge the show because there were more people that came to see us. You don't need to run around a football stadium three times and jump in a cherry picker and then the smoke bombs. You're detracting from what the Stones are about. You're selling it short.
Who do you think you are? Peter Pan? Just grow up. You can't do this forever.
And you're the guy who said you didn't want to sing Satisfaction at 40 years old. Now you're 45 and you're still doing it. You're singing my songs with some other band.
DL: I don't necessarily want to rake over the old coals of your dispute with Mick, but I was interested in your analysis of your long-standing friendship.
Some of the things you've both said have been fairly hurtful, but you don't think they'll stand in the way of another Stones album and tour?
KR: There's nothing I would say to anybody that I haven't already said to Mick. Mick's heard me preach this to him a thousand times, personally.
DL: Does he mind you saying it on the record to the press?
KR: I should imagine that it does bug him, but there's no way in our position that you can keep this a private disagreement. I would have liked to have kept my drug problem a private thing too. There's no way that it can be done.
You have to be able to deal with this thing in public as well and maybe that's the best way to do it.
I don't know. I see it as growing pains. And Mick and I have seen bands, huge acts including The Beatles, come and go and always, until the last few years, we would say, "Thank god we don't have to worry about their problems."
But after 25 years a certain stifling atmosphere sets in, probably some things we don't know about, a conglomeration of working together, of wondering what you can do by yourself.
"Is this all I can do?" As if it's not enough.
DL: So the fact that you've said he has Lead Vocalist Syndrome and he's called you, Charlie, Bill and Ron a bunch of boring old farts, that doesn't stop you going on tour in 1989?
KR: No. Mick and I can work together. I know that to a certain extent Mick's scared of me. He doesn't want to be isolated with me in some little joint. I understand that, because...
DL: The two of you can't be in the one room without anybody else around? Are you both fearful of that?
KR: I can. I have a feeling Mick has some trepidations about it, but he's enough of a man to be able to deal with it. He's a friend of mine. I'm the only guy who's going to say "no" to Mick. Everybody else around him is going to say: "Yes, Mick you're great. Yeah, you're right." because they're paid to say "yes".
And that's all part of the LV Syndrome. It's gone down for donkey's years. It's a real danger for somebody who doesn't play an instrument in a band.
And to pull off what Mick's pulled off in a way you have to almost believe you're semi-divine. It's not that easy to front up a gig with just a microphone, with a hundred thousand people in front of you.
It starts off necessary to feel semi-divine while you're on stage and then the minute you're off stage to say "Thank Christ that's over." and you're back.
Eventually the semi-divine feeling lingers while you get in the car. And then it lingers while you get on the plane and then eventually it seems to linger until you need to feel that way all the time.
I've seen this with loads of other singers... Roger Daltry, Robert Plant... I've seen this happen with a million of them. And also 25 years of working together that you... this other little thing starts to blossom inside and you say, "I wonder what else I could do?"
"Could I do it by myself? Do I need these guys?" It's not a matter of putting the other guys down, it's for yourself, do you need them?
DL: The reviews of both albums, yours and Mick's have said you both need each other.
KR: I agree with it too. But whether we need each other all the time is what Mick and I are really going through right now. It's probably a healthy thing. This bit of ventilation for the last couple of years.
"You mean I can't do anything without him?" and he's thinking the same thing about me. That starts to itch at you and as much as you try to put it in the back draw, the draw keeps flying open. He's found that he can work without me and I've found that I can work without him.
I like to work with Mick, because to me he's an instrument. I know exactly what makes him sound good and what doesn't.
Also he knows how to use what I can give him to a greater degree than probably anyone else. I give him a riff and a hook and I know he's going to go off and come back with something.
If you want the Rolling Stones, there's no way you're going to get it without Mick and me actually getting in there together and mucking it up.
DL: But he can copy the Rolling Stones, because the guitarist just has to listen to the Keith Richards' riff...
KR: Yeah but he can't play it the same as me.
DL: Are you serious about next year or are you just putting up a front for the press?
KR: No. No. To me it was a hassle to have to go to London. I had to shut down making my record for a month in order to go to London for a week to talk. Suddenly the Rolling Stones want a band meeting.
DL: But you did it.
KR: Of course. The Stones are my buddies, they're my mates.
And I had to explain it to the rest of the guys I was working with. But they understood it, bless their hearts.
In order to go to London for a week, I had to close down my record and it took a month to get back into operation and I was on a roll.
But the Stones? I got to go. There's no way I'm going to say no to my mates.
DL: The relationship between you and Mick is one that not only puzzles the whole world in a tabloid sense...
KR: You don't think it puzzles me?
DL:... but interests me in the relationship of two heterosexual guys that have got a very deep and very serious relationship with each other.
KR: Our difference is that we can't get divorced.
Even if Mick and I never did another stroke of work together in our lives, we'd still have to live with each other. Just on a business level we'd still have to face each other.
If Mick wanted to be that chill with me... I'll always be his friend... but to me... you see Michael, he doesn't put that much store by friendship and loyalty as I do. To me that's one of the best things you can get out of life is to have friends. If you can count more friends than you've got fingers then you're really lucky and luckily I can start on my toes. And I don't know if Mick can.
I don't know if Mick can fill a hand.
DL: You also speak of "losing the band" as a personal failure.
You're only surviving contemporaries are The Hollies, The Kinks and another almost The Who reunion. What kind of failure is 25 years as the greatest rock'n'roll band in the world?
KR: Prior to making this solo album, I thought there was no way I couldn't keep them together one way or another.
There's no way I could make a solo album without having to admit to myself I could no longer keep the Rolling Stones together, which is a personal thing within me.
It's okay to do a track with Aretha Franklin, make a movie with Chuck Berry, but to make my own solo album was a tough one to bite on, because the only way I would make a solo album was to first face myself and say, "You cocky little son of a bitch, you thought you could keep them together, no matter what." The only way I could deal with this was to do my own solo stuff and get at least enough respect on that level to be able to deal with Mick on the same plateau that he's now on.
After two solo albums that he's done - admittedly they didn't do that well - but at least he's making a living out of it.
At the same time I don't want that statement to diminish the fact that I've found another band and it would be no heartache for me at all now, if the Stones don't put their backs into things in the next year, that I'll swing out off on my own forever. Because now I know that I can do it.
DL: Is that a threat?
KR: Not particularly. No. It's not a threat at all. But it's a consolation, because I know I have a shit hot band of guys that I can work with. And if I work with them more, I can turn this into a unit that can still be very very powerful influence in music and make some great records.
I know it's early days for this band.
What interests me more than playing with the Rolling Stones is playing with an enthusiastic bunch of guys. And if the Rolling Stones aren't that enthusiastic about it, I'd rather go along with the enthusiasm than reluctantly drag the Rolling Stones into another decade.
DL: You were very upset about Mick pulling a new band together and then doing a pseudo Rolling Stones tour. Would you do Rolling Stones songs - other than those clearly identified as Keith songs - if the band was all over.
If, say, that day came when Charlie decided that he really did want to work for $30 a night in a jazz club?
KR: No. No way. I wouldn't attempt any more Rolling Stones songs than I did on this tour. Just the ones that I sang on.
After all most of them are my songs. At least the ones that most people would identify as Stones songs... Satisfaction, Honky Tonk Woman, Tumbling Dice...
They're all mine. They're my songs, Mick sings them.
I was very surprised with Mick. I figured he would think of it as I did: that you made two solo albums you go out and play that stuff. Just throw in a couple of sweeteners from the past...
I would have thought the whole idea of going solo was to prove that you were something that could live without the Rolling Stones. And once again Mick has proved me wrong.
DL: You deeply love your best friend don't you?
KR: Yeah, I worry about him, man. But you see, it comes back to saying "no" again.
Since I'm the only one who says no, he views me as the enemy. I just don't want to see the guy turn into a withering old Peter Pan, because I know there's more in him than that, but I fear for him.
It's very easy to become, from Mick Jagger the hero to Mick Jagger an object of ridicule because he's being that flamboyant... at least on stage.
The whole thing is right on the edge. You're getting older and older. There's no point in trying to recapture other glories. It's a matter of growing up now. It's a matter of making this thing work.
I have no intention of putting the Rolling Stones back together, just to watch that lemon-yellow pair of tights flash by me again.
To me this is a point in time for Mick to find some other form of presentation. It's a matter of style. You were right in that. Basically it's a matter of style, but style is a very ephemeral word. Is there anything more inside there? That is why next year is going to be a crunch point.
DL: What is your identity and how did you find it? There seems to be a lot in the drug therapy and in analysis... perhaps when you were giving up heroin.
KR: I never went through any of that.
I just went into a room and clawed the wall-paper off for three days and got the hell out of there.
I just went into a little house into a little room and a doctor gave me a couple of shots of valium and I climbed walls and thought there was dope behind the wall-paper and claw the walls down. And walked out and said thanks, I'm clean now.
DL: But you do talk about analysis. I'm interested in your perception of yourself and how you came to it. You seem to have this idea that you've got your act together, that Mick helped you through a really bad patch and now it's time for you to help him through a bad patch. Does he need your help or has he got his act together as well?
KR: I don't think that he thinks that he needs anybody's help. But I wonder if he's realised that he's way out on a limb.
I mean to me the guy has no friends. This is what worries me. I feel like I'm his only friend.
I know the way he lives. I know everybody else who knows him.
I know that Charlie Watts dished him out a great fucking right hook and that's Charlie Watts saying "You and I have had it."
DL: When was that?
KR: '84, '85.
DL: Actually thumped him?
KR: Mick was wearing my jacket at the time. It really pissed me off.
Charlie punched him into a plateful of smoked salmon and he almost floated out the window along the table and into a canal in Amsterdam. I just pulled his leg and saved him from going out.
Meanwhile my jacket, my favorite jacket, got ruined. Why did I lend him that jacket (laughter)?
DL: What was it about?
KR: It was absolutely about nothing. I had taken Mick out for a drink. We were having a group meeting in Amsterdam and I figured the shortcut was that Mick and I would go out for a drink and visit a few friends and just forget all of this bullshit.
So we had a great time all night and at five in the morning Mick came back to my room.
Finally he's drunk by now. Mick drunk is a sight to behold...
[Keith does a drunk Mick imitation] "Yeah ehh ehh. yeah, 'ow ya goin?" Charlie is fast asleep. "Is that my drummer? Why don't you get your arse down here?"
Charlie dressed up in a Saville Row suit. Put his tie on. Shoes. Shaved. Came down, grabbed him and went boom!
"Don't ever call me 'your drummer' again. You're my fucking singer."
And that's Charlie's way of saying, "It's over man." It went really downhill after that. If there was another friend Mick had, it was Charlie. And also on top of that, Mick was very stupid. He forgave Charlie. There's nothing to forgive. Nothing left to forgive.
DL: Is that what has been the problem with the Rolling Stones since that time?
KR: It was just another indication that Mick has no friends. Except for me. Everybody else is just a yes man.
DL: There were reports in the British press that Mick and Charlie's offspring had been skipping class and had been reprimanded for their misbehavior - if I remember correctly they were going out late at night with boys...
KR:... getting laid (chuckles).
DL: How do you get on with your children? Angela has left school. Were you involved in that decision?
KR: She left school because she finished school. She's become quite a horsewoman. My kids are incredibly straight. Angela gets up at four or five in the morning and goes and mucks out stables, because she's in love with horses and she teaches other kids how to ride. She's got a few red rosettes and a glass cabinet full of trophies.
Marlon's going to school in London to pick up a couple of extra A-levels and he's going to art college next year.
My other two are two and three years old. They're just little angels.
DL: How close are you to your dad?
KR: We met again in '82. We didn't see each other for 20 years. I left home because it was him or me. It was too stifling. I wasn't what he had in mind at the time... some longhaired lout, playing a guitar.
But in the 20 years that intervened he understood my point of view.
He retired and didn't have the problems of having to feed the family and work his butt off, so we've gotten very very close in the last six years.
It's been a real joy to me and I think to him too, because he's got to know his grand-kids which otherwise the continuity would have failed and it's always been a tight family.
It was up to me either to sew it up together tight again or let it flap in the wind. And it's one of the best things.
I was scared shitless so I took Ronnie Wood to protect me, which is the funniest thing, because Ronnie is the world's worst bodyguard.
I figured I'd use Ronnie's humor. And this little old guy walks out of the car and it's my dad. I can recognize him but it's 20 years. He's a lot older, but he's as tough as nails and could still drink us all under the table. I love the guy and we have great times together.
On top of that there's the joy of seeing him and introducing my kids to him. To be able to pull the family back together again... it's too much... at least I did something.
DL: Did you see Ronnie's art exhibition in London?
KR: No, but I saw the stuff that he was going to put in it, because I was down at his place, when he was doing it.
DL: He should keep his day job shouldn't he?
KR: Hey, Ronnie does a good job, man.
DL: No he doesn't. It was absolutely terrible.
There was a picture of Jagger that could have been done by anyone off the sidewalk. He's worked with Jagger for ten years and he's got no character in the pictures at all.
KR: There's very little character in Jagger. It's very life-like. He captured him. Nobody at home.
DL: Onto one of my favorite subjects. Your ability to ingest drugs is legend, but you have, as Arlo Guthrie so eloquently put it, "rehabilitated yourself". You are no longer a heroin addict. Are you proud to be the only man the Royal Canadian Mounted Police never got?
KR: Not really. I'd preferred they never got their hands on me in the first place. But that was the realization that this thing has got to stop.
Things like heroin... with that stuff, it's not a matter of getting high anymore. That's the first few hits. After that it's a matter of maintaining yourself. You try to kick it, but you're into the web. And that's the hardest thing about kicking that sort of stuff is that your whole life revolves around it.
Yeah, you can clean yourself up and the minute you go back out all these people are trying to lay it back on you again. That's the toughest part for anybody kicking it.
The actual physical matter of kicking it is not pleasant but it does only last 72 hours and you are clean. It seems like a year while you're doing it. But it's not so hard.
It's nothing I'd recommend to anybody, but a musician's life... it's very difficult to get anyone to understand. It's an underworld life anyway. Musicians start to work when everybody else stops working and wants some entertainment.
If you get enough work, you're working 350 days a year, because you want to fill up every gig. And you reach a point very early on where you're sitting around in a dressing room with some of the other acts in the show and you say, "I gotta drive 500 miles and do two shows tomorrow and I can't make it."
And you look around at the other guys and say, "How the hell have you been making it for years?" And they say, "Well, baby, take one of these."
Musicians don't start off thinking, "We're rich and famous let's get high." It's a matter of making the next gig. It's like the bomber pilots, when they used to give them Benzedrine to get to Hamburg and back. And then it was legal. That's how it starts out and it's usually speed.
DL: What chemicals have you settled down to in your middle years? Obviously nicotine and bourbon. Do you still smoke dope?
KR: If there's some good shit around. Now and again. But I go for connoisseurs shit. I don't mind a good smoke when I can get it, but I just gave up having anything around.
If there's something around a dressing room, yeah, fine. I'm not going to say no if somebody passes me a joint. I gave up buying or having any myself. Once you've given up smack everything else is bullshit.
I mean I can drink this stuff [Rebel Yell, ice and Schweppes Ginger Ale in a tall glass] all night. I can't even get drunk anymore.
DL: The past few Stones albums have been very formulated - good songs, a single or two, some songs that take time to grow on you... but it's a long time since one stuck out like Beggars Banquet, Exile or Stickyfingers. And yet you're very critical of most contemporary rock'n'roll.
You and Mick had better write some seriously revolutionary songs on the next one, hadn't you? Put yourselves back in the charts - which is something you haven't done for a long time.
KR: It's a long time since I even bothered looking at charts.
They're more help to the radio industry and the record industry than they are to anybody else. Some records go into the charts and just bubble under.
Dirty Work is still selling incredibly well. It just stays there at about 152.
The charts are just peak interest. It's the same with Exile On Main Street. It didn't stop selling for five years. It just kept on selling a solid 50,000 a week every week of the year for five years.
Dirty Work has also been selling incredibly consistently. Nothing will ever put it back in the charts again, but these things go on.
It's the same with movies. You can go see Harder They Come, but you couldn't see Raging Bull.
The charts only show the peak interest of things and not the steady rolling thing that just keeps going.
DL: Are the days of the Rolling Stones making number one in the charts or number ten in the charts well behind us?
KR: I don't know. Let's find out. To me the interesting thing is the not knowing.
I think the Stones have some great records left in them. As long as they want to put their backs into it. As long as they don't approach it from the last big kill or superstar arrogance angle... I don't think I could stand it.
As long as the guys in the band... and I don't see Charlie Watts or Ronnie Wood approaching it like that. I have certain reservations about Mick and Bill Wyman in that respect. I think they take it for granted that people love the shit that comes out of their arseholes, quite honestly. And that makes me feel very squeamish.
It's horrific to me that I could think that I'm above and beyond anybody else. I'm just a regular guy.
I'm just a guitar player.
© David Langsam, 1988.