A review of Mirka Mora'a autobiogrpahy "Wicked but Virtuous" is here.
An article about collectible dolls and Mirka Mora is here.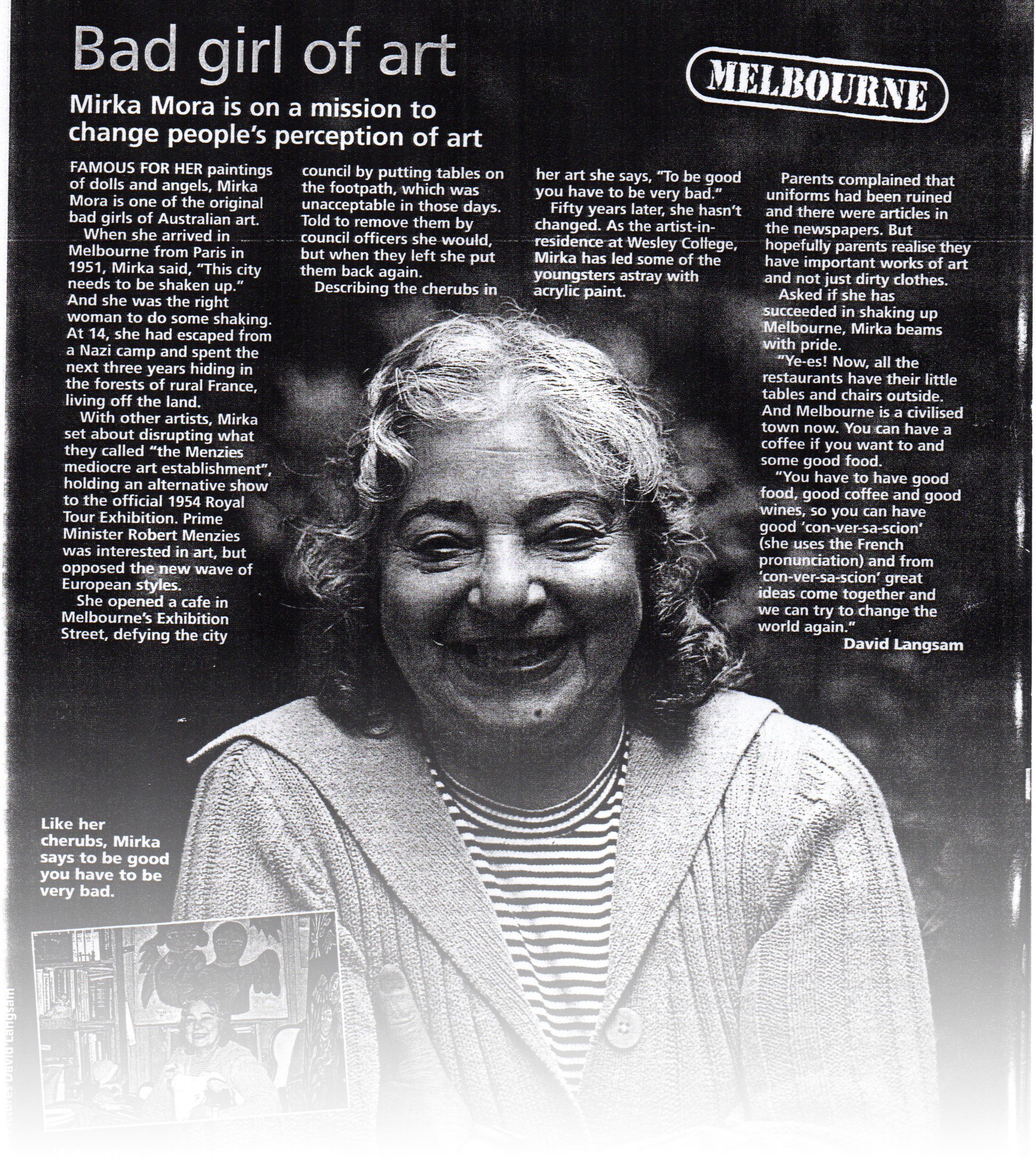 Fleeing post-Holocaust Europe, Mirka Mora arrived in mundane 1951 Melbourne declaring: "This city needs to be shaken up". Half a century later she believes she has succeeded.
With her husband, Georges, she flew into the Contemporary Arts Society and fanned the flames of the post-modernist art explosion. Conspiring to overthrow the Menzies-era conservatism with John and Sunday Reed, Joy Hester, Albert Tucker, Charles and Barbara Blackman, Bernard Smith and the Antipodeans, Mirka Mora broke all the rules.
In 1954 the CAS held an alternative to the Royal Tour Exhibition in Mirka's studio at 9 Collins Street. According to Barbara Blackman's excellent 1996 Meanjin essay (The Good Ship Mora), it was inspired by "the mother and father of all our angers and frustrations, the Menzies mediocre art establishment".
"We retaliated," wrote Blackman. "Everyone put up their toughest and best works... Mobs came, mockers and discoverers. Namatjira defected to us."
Mirka opened her cafe in Exhibition Street, outrageously defying the authority of Melbourne City Council by putting tables and chairs... on the footpath. She introduced the first Gaggia expresso machine to Melbourne at the same time as Pellegrini's. She was creative and possessed with boundless energy and a childlike innocence.
Half a century later, she hasn't changed one little bit. Appointed artist-in-residence at Wesley College earlier this year, Mirka led a class of very young children into the world of acrylic paint and its possibilities. Parents complained that school uniforms had been "ruined" and there were articles in the newspapers. One can only hope the parents had the acumen to hang the clothes rather than bin them.
Asked if she is really an enfant terrible Mirka replies "de temps en temps" (from time to time.) "When I have some time to waste, which is rare."
And Mirka hasn't wasted any time. She has consistently - or more accurately, persistently - painted her angels and dolls and exhibited her work.
Asked if she has been successful in her aim to shake up Melbourne, Mirka is emphatic.
"Ye-es! You know, now all the restaurants have their little tables and chairs outside. We were not allowed to do that in '53 and '54. And Melbourne is a civilized town now. You can have a coffee if you want to and good food."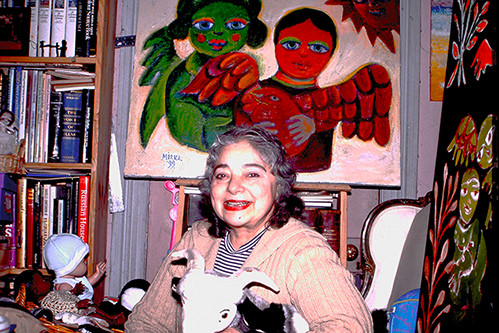 "You have to have good food and good coffee and good wines, so you can have 'con-ver-sa-scion' [she uses the French pronunciation] and from 'con-ver-sa-scion' great ideas come and we can change the world again. For the better!"
Apart from working on three paintings simultaneously and preparing for her 50-year retrospective at Heide (October 9 - November 28), Mirka spends much of her time writing her autobiography (for Penguin).
Aged 14 she escaped from a Nazi camp and hid in the forests of rural France from 1942-1945. She describes her family's survival as "a great luck story". After the War the Zeliks were divided on what to do. Her father, Leon Zelik, loved Paris and didn't want to leave, but her mother, Celia, wanted to go to America.
Told by her father not to read La Vite Boheme by Henri Murger, Mirka naturally did so and discovered French photographer, Antoine Fauchery, who travelled to Melbourne to make his fortune. He was Mirka's inspiration - she says "intoxication' - to cross the globe to this distant land.
"It's all in mah auto-bee-ography," says Mirka, when asked about her life, as if she is afraid that even little glimpses will exhaust her memory.
"You must never lose a memory. You must not lose the truth."
"The dolls [in her house and paintings] are really my nostalgia for childhood. I love being a child. I still haven't grown up. I think it is to protect yourself, so you can study... always know what is happening, but not lose your innocence."
"I don't understand what you do with time," she says quizzically. "I didn't realise it is 50 years. It is half a century. Time maybe, doesn't even exist, for all we know.
"The poignancy of childhood that you have to leave behind. If you grow up and be an adult, you have to leave it behind. That would be terrible. I couldn't do that."
Importantly the dolls are much more than a longing for childhood. They are part of Mirka's painterly vocabulary. She says all the symbols are "archetypal images" and are as ancient as the world.
The serpents, birds, cherubim, angels, the wide-eyed street urchins - are all representative of deeper themes. "I am very lucky to have a stock of it in my brain," she says.
A simple contrast of green cherub and red-brown man with bird watched by the sun, and floating in a white background is of Papageno and Papagena from Mozart's Magic Flute opera.
"When I worked... these two persons are so strange with their half bodies and I could hear the music - you know if you paint well you can hear music sometimes - and I heard... 'Oh, that's Papagena the green one the naughty boy'."
"You have to win a symbol. It doesn't come that easily and you have to work at it for years until it's yours. The craft of painting is so difficult. You think you know what you are doing, but you don't."
"But my work is very mysterious to myself. The way the brain translates emotions, images. I am a maker of images but, this painting," she says pointing to a large canvas, "I struggled terribly."
Asked about her cherubim she replies: "To be good you have to be very bad. No, I don't think of bad and good... just good."
"My snakes are very happy. They mean sex, but also knowledge. My bird and my snake are always happy because they are there to remind you of being... even if you are going to drown the snake is there to help you... because I am a great optimist.
Mirka's work is on permanent display at the Tolarno Hotel in Fitzroy Street, St Kilda, which she owned with Georges from 1965 until 1970. The hotel's private room - Mirka's Salon - is ideal for a quiet party for 20 or so arts revolutionaries. Owners Ruth Allen and Iain Hewitson are desperately proud of their collection.
And she has left her mark across the city she has shaken up. Cosmos bookshop in Acland Street, the Dog's Bar and Flinders Street Station all have work by Mirka Mora.
But for a complete retrospective, Heide's Georges Mora Gallery will be the place to go in October and November.