Like many artists, Juan Davila honestly believes that his media (visual image) is his primary method for transmitting his thoughts to the world.
And like Arthur Boyd, the internationally renowned Davila is apologetic about his words in interviews, asking this writer to "fix it up" and make it grammatical. And as with Arthur Boyd, in transposing those words to print, the writer is shocked at the incinsive clarity of thought and idea.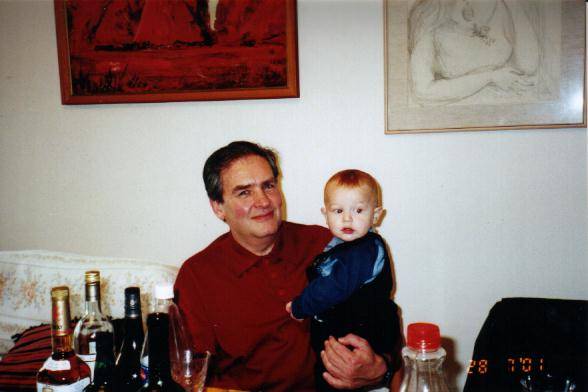 Davila's forthright description of "wrong" as "wrong" rather than searching for a polite euphemism matches his bold paintings. Similarly Boyd's comments make more subtle and painterly, but equally telling, jabs at the sacred cows of institutions.
So it will come as no surprise to Davila, currently in Chile presenting his work to the people of his birthplace, to discover he is again the centre of a controversy - this time over his depiction of Mad Cow Jeff Kennett in "The Painting Of The Premier Of Victoria 'A Mountain Muster By Tom Roberts' (Mad Cow) 1996" at the Australian Contemporary Art Fair at the Exhibition Buildings.
Davila's views could not be more plain. Note the Albert Park yellow ribbon. Note the swastika. Note the appropriation of Susan McCulloch's article in "Do I Pass Muster" explaining the curious route of funds from building developers - subsequently allowed planning permits - through the taxpayer established Urban Land Authority for a painting generally dismissed as both a lesser Tom Roberts and unnecessary in a National Gallery of Victoria already holding some three dozen works by the artist.
Here, Davila criticizes the waste of funds that could go, not to him, but to emerging artists that really need gallery support. It says the curatorial values are wrong. He discusses these values in a lengthy essay in the June edition of Arena and makes exactly the same point in discussing Mr Kennett's recently announced $100,000 Contempora 5 prize for so-called cutting edge art in September's Art Monthly.
"It's the sort of thing I would never enter on principle. I think they [painting prizes] are completely anachronistic," Davila said.
"The prize is self-serving for politicians and bureaucrats. Publicity is their aim rather than a serious approach to funding for culture and cultural discussion," he said.
Davila said that for anything dealing with social issues, winning the prize rightly or wrongly, would seen to be as much of a gimmick as anything avoiding such issues.The concept of such a prize is inherently conservative and must by definition exclude most work.
"Mr Kennett says the art [of the Contempora 5 finalists] will be challenging, even controversial. One wonders what he means by challenging. Imagine the response if the best works deal with social issues and one wins the prize. So far Mr Kennett's government has been deaf to the concerns of the poor and the underclass.
"It is ironic that he [Kennett] is placing a value on 'challenging' art. But that is nothing new because curators and directors have been filling their pockets with grants and climbing the social ladder with the same claim for art- with-an-edge for many years.
"This act of charity is such a reductionist approach. In finding this elusive challenging art, what are the acceptable frontiers of imagination? Can art that cannot even be named, because it is yet unknown, win such a prize?
"The prize concept is a conservative one and inherently excludes most things that artists would call creative, challenging or cutting edge," Davila said.
Davila who is clearly one of Australia's most radical and the freshest of painters could barely be considered for a prize that is selected for Mr Kennett in part by NGV director Timothy Potts, who is pilloried as much in the work at the Contemporay Art Fair as Kennett. Ironically, he is probably the one painter who stands out as Australia's most incisive and challenging painters. If Kennett was true to form (and writing this means he can't be) he would award the first Contempora 5 prize to the one artist who won't enter the competition.
But as Davila has written in his Arena article those curators who champion artists from marginal areas can claim to have pushed the borders of contemporary art, but he notes the contradiction of tearing down barriers "seemingly democratizing the space for cultural action" while the art market and its established institutions drive "the packaging of images" which is itself a "highly delusionary enterprise."
Davila is expected to return from Chile, where he has been rehabilitated after offending half a dozen South American countries with his depiction of the revolutionary nationalist Simon Bolivar as an indigenous transexual.