At a barbecue on the terrace of his studio in Melbourne's Dandenong Ranges, painter and sculptor Lin Onus, AM, unfurled a banner he recently recovered, which had belonged to one of the first Aboriginal rights organisations, the Australian Aborigines League. The banner had been made by his father, Bill Onus, in the 1930s.
A member of the Aboriginal Arts Board of the Australia Council from 1986 to 1988 and chair of the Aboriginal Arts Committee from 1989 to 1992, it was Lin Onus who earlier this year brought to public attention the contested but now established fact that the Aboriginal community - just 1.7 percent of Australia's population - provides about half of Australia's visual artists and about half the visual arts income. Lin's premature death, aged 47, ended a dedicated participation in both the arts and Aboriginal rights.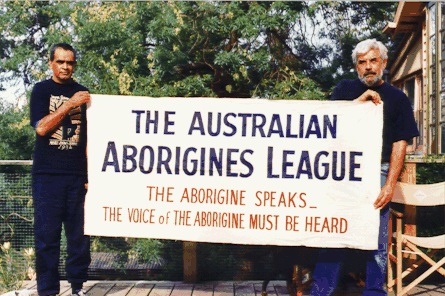 Born in Melbourne on December 4, 1948, Lin was a member of the Yorta Yorta community, who are currently fighting a claim for their traditional land based on the Barmah Forest on the Murray River. Lin's family has included numerous heroes of the struggle for Aboriginal rights, many of whom continue to live in the Shepparton and Murray-Goulburn area in Central Victoria.
Despite sharing connections with the Goulburn Valley and growing up within a few miles of each other, in Melbourne, I first met Lin in Scotland, his mother's birthplace, when he brought the 1990 "Tagari Lia: My Family" exhibition of Aboriginal Art to Europe.
Shown at Glasgow's 'Third Eye Centre' and at galleries in England and Wales, "Tagari Lia" was the first international arts festival organised by Aboriginal people. Lin designed an installation of several five-foot tall fruit-bat-shaped lanterns for the show which was then decorated by Lin, his wife Joanne and son Tiriki. Lin is also survived by two children from his first marriage, Birralee and Kenneth, and three grandchildren.
His sculptures of dingoes casually passing through dingo-proof fences was a dramatic installation in the 'Aratjara Art of the First Australians' exhibition, at London's Hayward Gallery in 1994.
Lin Onus was a self-taught artist, who travelled widely, developing his skills and involving himself in both arts and Aboriginal rights issues along with participation in wider community activities.
He was a Country Fire Authority volunteer for more than 20 years, and in 1989 was awarded the National Medal for Diligent and Exemplary Service. The National Aboriginal Flag has flown at half-mast at the Upwey CFA Station for the past week in tribute to a much-missed mate. The significance of the Aboriginal flag flying at the icon of right wing rural Australia was noted by Lin's friend, radical activist Gary Foley, who said it did more for Aboriginal-white reconciliation than all the talk in Canberra.
Lin had more than a dozen solo exhibitions, participated in group exhibitions and won many awards for his work. His painting of Gary Foley, was an entrant in the 1995 Archibald Prize for portraiture.
A showing of his most recent paintings - Australian landscapes portraying indigenous fauna hidden among rocks and in the scrub and billabongs - was held in Melbourne in September last year. Much of his work has focussed on the Barmah Forest, employing an enigmatic combination of western surrealism and Aboriginal motifs to make Lin's statement about the Australia in which he lived.
He won the National Aboriginal Art Award in 1988, the Shire of Sherbrooke Community Service Award for Cultural Achievement in 1991, the prestigious RAKA Award for Aboriginal arts and culture from Melbourne University in 1993 and the National Aboriginal Heritage Award in 1995.
He was awarded the Member of the Order of Australia award (AM) in the 1993 Queens Birthday list. It is similar in rank to an OBE.
Late on Wednesday night, Lin complained of feeling unwell and his wife, Joanne, drove him from their home to The Angliss Hospital where he died from a heart attack a short time later.
Lin Onus had been in very good health and his sudden death - on the day that a report was published showing that Aboriginal people were likely to die 17 years younger than non-Aboriginal Australians - came as a great shock to all those who knew him.
Aboriginal activist Gary Foley said there were others whose lives he feared for but Lin's death was completely unexpected.
Australia's Minister for The Arts, Senator Richard Alston, who was India when he learnt of Lin's death, said he was saddened to hear of the loss of a prominent Australian artist.
Senator Alston described Lin Onus as "one of Australia's most important visual artists" and said Lin had made a significant contribution to Australian art and culture.
And suddenly he was gone.