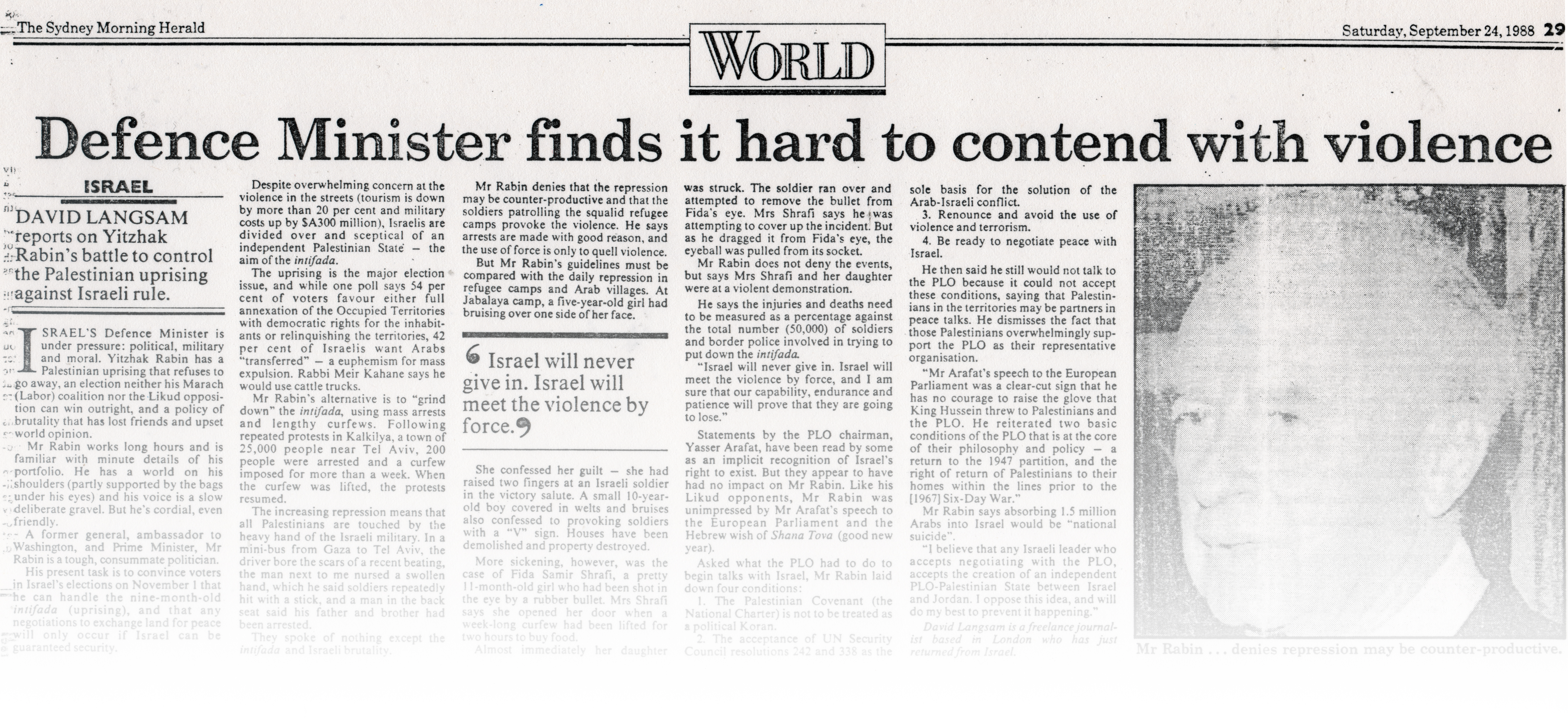 David Langsam interviews Yitzhak Rabin.
Transcript of the interview with Yitzhak Rabin can be found here.
ISRAEL'S Defence Minister is under pressure: political, military and moral. Yitzhak Rabin has a Palestinian uprising that refuses to go away, an election neither his Marach (Labor) coalition nor the Likud opposition can win outright, and a policy of brutality that has lost friends and upset world opinion.
Mr Rabin works long hours and is familiar with minute details of his portfolio. He has a world on his shoulders (partly supported by the bags, under his eyes) and his voice is a slow, deliberate gravel. But he's cordial, even friendly.
A former general, ambassador to Washington, and Prime Minister, Mr Rabin is a tough, consummate politician. His present task is to convince voters in Israel's elections on November 1 [1988] that he can handle the nine-month-old intifada (uprising), and that any negotiations to exchange land for peace will only occur if Israel can be guaranteed security.
Despite overwhelming concern at the violence in the streets (tourism is down by more than 20 percent and military costs up by AUD $300 million), Israelis are divided over and sceptical of an independent Palestinian State - the aim of the intifada.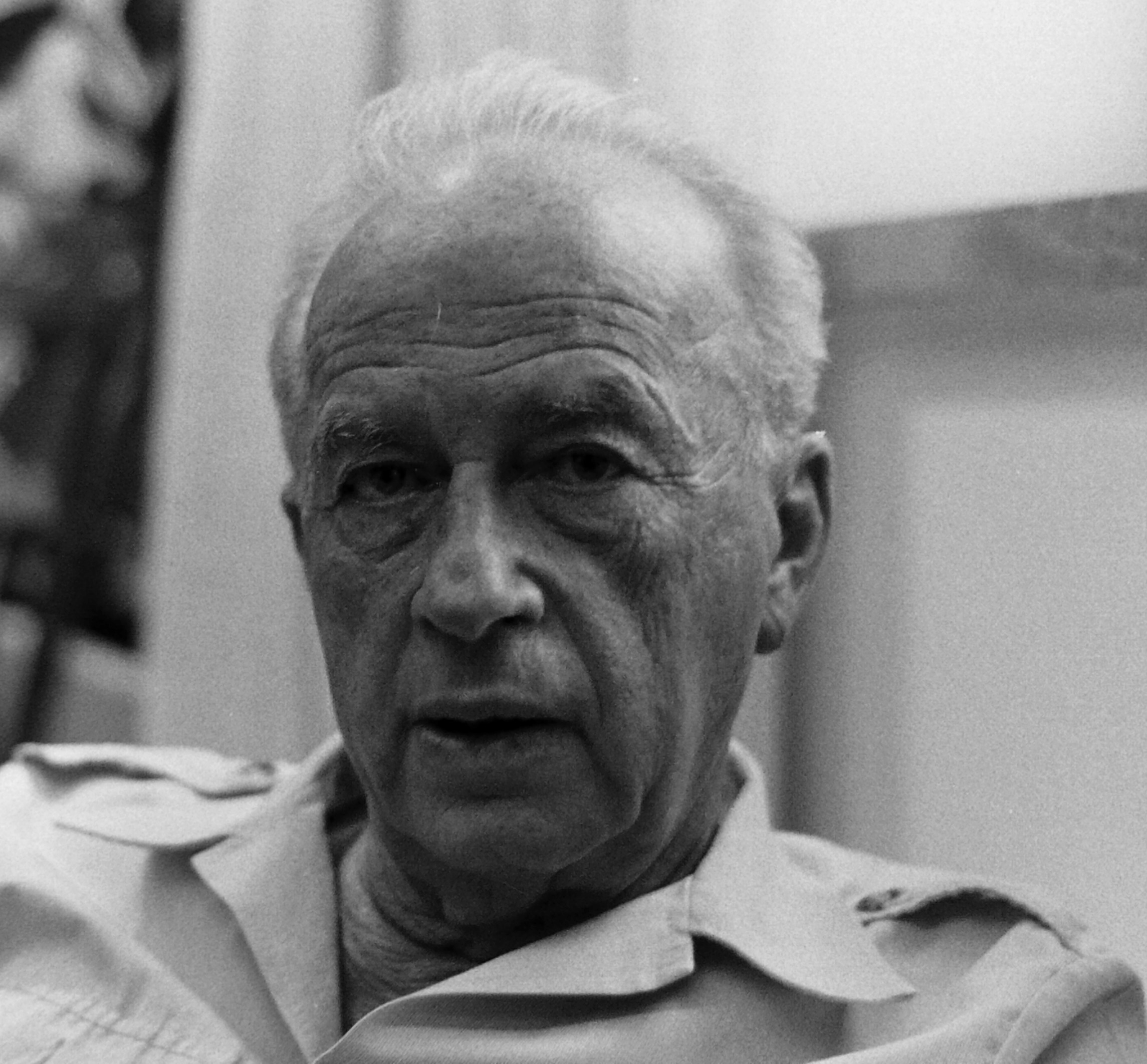 The uprising is the major election issue, and while one poll says 54 per cent of voters favour either full annexation of the Occupied Territories with democratic rights for the inhabitants or relinquishing the territories, 42 per cent of Israelis want Arabs "transferred" - a euphemism for mass expulsion. Rabbi Meir Kahane says he would use cattle trucks.
Mr Rabin's alternative is to "grind down" the intifada, using mass arrests and lengthy curfews.
Following repeated protests in Kalkilya, a town of 25,000 people near Tel Aviv, 200 people were arrested and a curfew imposed for more than a week. When the curfew was lifted, the protests resumed.
The increasing repression means that all Palestinians are touched by the heavy hand of the Israeli military. In a mini-bus from Gaza to Tel Aviv, the driver bore the scars of a recent beating, the man next to me nursed a swollen hand, which he said soldiers repeatedly hit with a stick and a man in the back seat said his father and brother had been arrested.
They spoke of nothing except the intifada and Israeli brutality.
Mr Rabin denies that the repression may be counter-productive and that the soldiers patrolling the squalid refugee camps provoke the violence. He says arrests are made with good reason, and the use of force is only to quell violence.
But Mr Rabin's guidelines must be compared with the daily repression in refugee camps and Arab villages. At Jabalaya camp, a five-year-old girl had bruising over one side of her face.
"Israel will never give in. Israel will meet the violence by force"
She confessed her guilt - she had raised two fingers at an Israeli soldier in the victory salute. A small 10-year old boy covered in welts and bruises also confessed to provoking soldiers with a V-sign. Houses have been demolished and property destroyed.
More sickening, however, was the case of Fida Samir Shrafi, a pretty 11-month-old girl who had been shot in the eye by a rubber bullet. Mrs Shrafi says she opened her door when a week-long curfew had been lifted for two hours to buy food.
Almost immediately her daughter was struck. The soldier ran over and attempted to remove the bullet from Fida's eye. Mrs Shrafi says he was attempting to cover up the incident. But as he dragged it from Fida's eye, the eyeball was pulled from its socket.
Mr Rabin does not deny the events, but says Mrs Shrafi and her daughter were at a violent demonstration.
He says the injuries and deaths need to be measured as a percentage against the total number (50,000) of soldiers and border police involved in trying to put down the intifada.
"Israel will never give in. Israel will meet the violence by force, and I am sure that our capability, endurance and patience will prove that they are going to lose."
Statements by the PLO chairman, Yasser Arafat, have been read by some as an implicit recognition of Israel's right to exist. But they appear to have had no impact on Mr Rabin. Like his Likud opponents, Mr Rabin was unimpressed by Mr Arafat's speech to the European Parliament and the Hebrew wish of Shona Tova (Good New Year).
Asked what the PLO had to do to begin talks with Israel, Mr Rabin laid down four conditions:
The Palestinian Covenant (the National Charter) is not to be treated as a political Koran.
The acceptance of UN Security Council resolutions 242 and 338 as the sole basis for the solution of the Arab-Israeli conflict.
Renounce and avoid the use of violence and terrorism.
Be ready to negotiate peace with Israel.
He then said he still would not talk to the PLO because it could not accept these conditions, saying that Palestinians in the territories may be partners in peace talks. He dismisses the fact that those Palestinians overwhelmingly support the PLO as their representative organisation.
"Mr Arafat's speech to the European Parliament was a clear-cut sign that he has no courage to raise the glove that King Hussein threw to Palestinians and the PLO. He reiterated two basic conditions of the PLO that is at the core of their philosophy and policy - a return to the 1947 partition, and the right of return of Palestinians to their homes within the lines prior to the [1967] Six-Day War."
Mr Rabin says absorbing 1.5 million Arabs into Israel would be "national suicide".
"I believe that any Israeli leader who accepts negotiating with the PLO, accepts the creation of an independent PLO-Palestinian State between Israel and Jordan. I oppose this idea, and will do my best to prevent it happening."
David Langsam is a freelance journalist based in London who has just returned from Israel.